The Global Perspectives class is honoured to have amazing guest speakers every year who are willing to share their experiences, knowledge and lessons. As a result, the Global Perspectives class would like to thank all the guest speakers who have taken their time to educate and teach the future generation of leaders. Here is just a small sample of the depth and breadth of guest speakers who have volunteered their time and talents to work with our Global students over the years.
Eva Olsson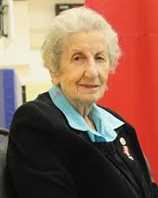 Eva Olsson's story starts as a Holocaust Survivor but, thanks to her lifelong commitment to a message of hope and peace, it has grown to an extraordinary level of international renown and respect. Dr. Olsson has visited Innisdale on numerous occasions, frequently at the invitation of our Global Perspectives Program, and on each visit, in addition to her work with the entire student body, she would drop by the Global portable to work with us for a few hours. Each class was enthralled, not only by her life story but the passion she brings to her message - a message of love for all humanity. We all agree... the world needs more Eva Olssons and we are forever thankful for the time we've spent with this incredible individual.
The Global Perspectives class was fortunate to welcome Patrick Watson back to Portable 11: A former student of the inaugural Global Perspectives class, a current Deputy Director for the Government of Canada, and a role model to all. Using his experience in international affairs, he helped the class develop a greater understanding of foreign policy, political affairs, and international relations within an increasingly globalized world. Mr. Watson was also able to offer the class guidance on the upcoming Global experience, specifically regarding the classes ISUs. The class was very thankful for Mr. Watsons insight and advice!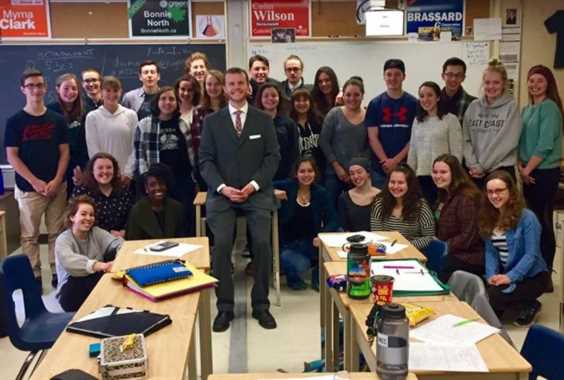 Dave Morrison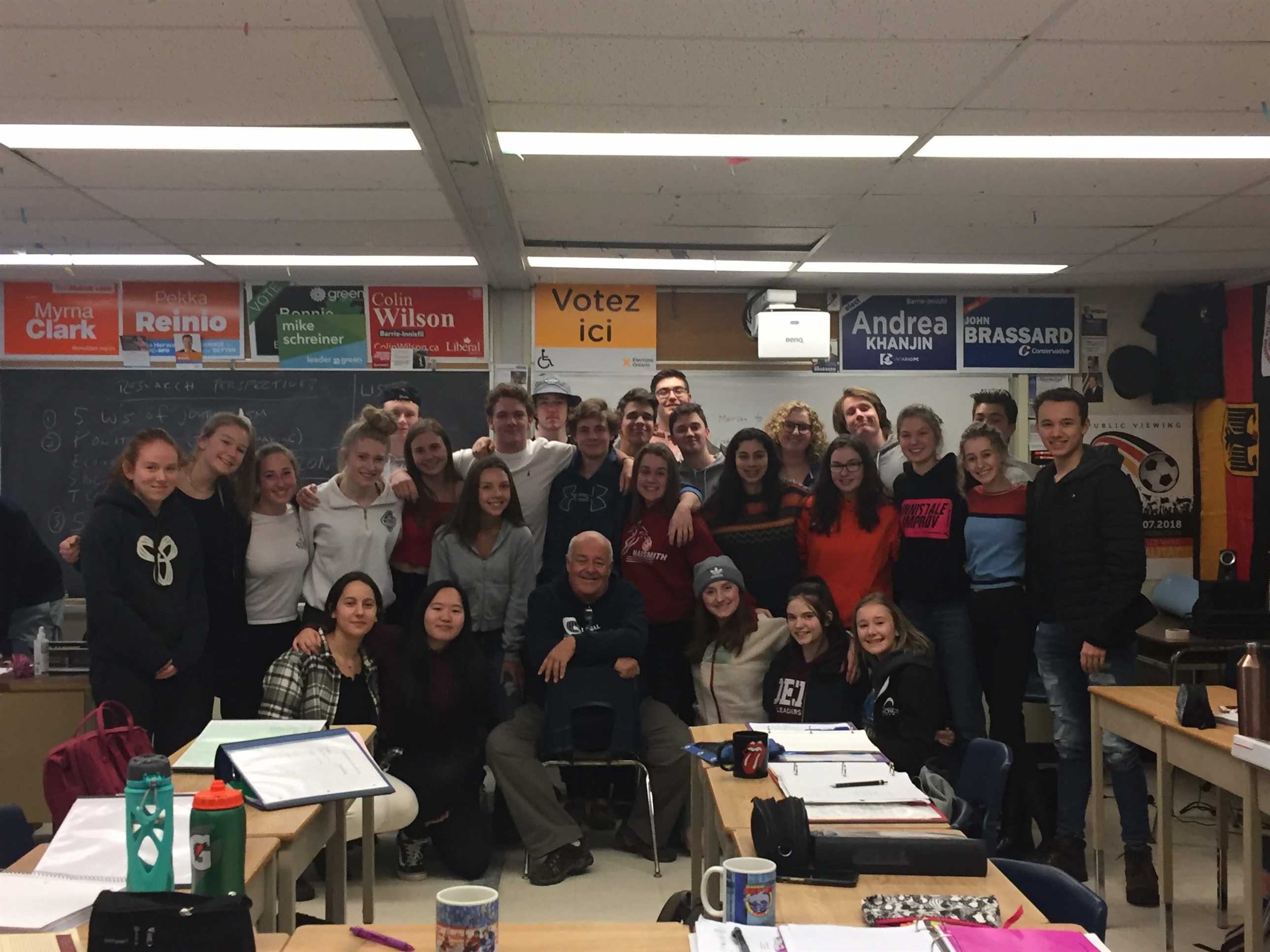 The man, the myth, the legend - the Godfather of Global came in as a guest speaker to answer the classes queries about the program and share his invaluable experience as its founder and as a former teacher. Mr. Dave Morrison also founded the Youth Ambassadors International. It is undeniable that he is a "Logic of Evil" guru, P.E.S.T master, and ISU expert. As one student noted, "Dave Morrison makes learning seem more like an inclusive discussion, rather than a one-sided lecture." We loved hearing his advice and opinions and felt very privileged to have him speak. We also had the pleasure of him accompanying us on our trip to Cuba. Throughout our journey, he gifted us with his presence, booming laughter, and profitable insight on Cuban history, economy, and politics.
Near the beginning of the semester, the Global class was privileged to host Ed Moll for a lesson on Spirituality and the meaning of life. The eccentric, former united church minister had a wealth of knowledge to share with the class as he explained his journey through 20 years of Christian ministry, to his current Naturalist views. Ed brought up some thought provoking, discussion sparking ideas which allowed everyone, regardless of their own beliefs, to consider and reconsider answers to complex questions such as the meaning of life.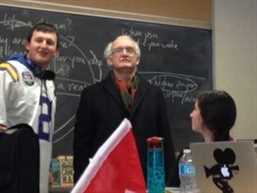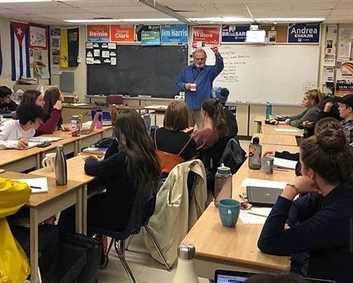 Rob Ruttan, a past Global teacher, lectured the class on a theory of the origin of spirituality as part of the comparative spirituality class. He led the class through the human race's development of consciousness and belief in spirituality. His lecture proved to be essential in developing an understanding of the origin of religion and was applied to many of the classes' projects, notably the ISU.
Dr. Geoffrey Anyoti
The class had the privilege to host Dr. Anyoti. In his presentation, he shared his story, from growing up in Uganda, through his move to Cuba, all the way to his life now in Canada. He shared several both serious and humorous stories, which created a detailed picture of his life. After listening to his very interesting stories, he allowed the class to ask questions about anything he had shared and offered the class the opportunity to understand both who he is as a person as well as the culture of the various locations of where he once lived. The class was intrigued and enlightened at the end of his presentation.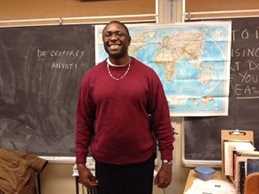 Grandmothers to Grandmothers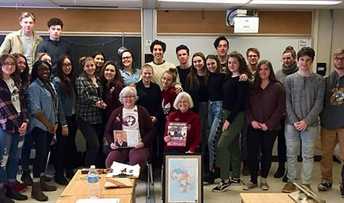 Cheery and Shelia are two of the many Grandmother's associated with the Stephen Lewis Foundation, Grandmothers to Grandmothers. After a very interesting and thrilling explanation of some of their own life history, we were able to learn more about the Grandmothers Campaign. Both Mrs. Robinson and Mrs. Nazerelli passionately spoke about how their foundation reaches out to grandmothers in Africa who are struggling to support their children and grandchildren as a result of HIV and AIDS. Although the campaign works towards improving the currently poor health in countries within Africa, Cherry and Shelia were both very positive as they shared with us about the improvements that have already occurred. In the same way, they encouraged us to find way to make a difference and showed us some of the jewelry and other creations the women have made in order to raise funds for the organization. We were truly privileged to have these two women come and share their stories and passion with us!
Matt Morrison
Matt Morrison was an interesting and outspoken speaker who came into the Global class to teach about his organization International Children's Awareness. Mr. Morrison told us all about his organization and taught the class valuable lessons about the economic aspects of charity organizations. He illustrated how profit organizations deceive the public by spending money for charity on things such as publicity and employees instead of giving the money to the people who need it. Through Morrison's presentation, the class learned how to decide if an organization is spending their donations in a responsible and useful way. One of the most significant lessons that Morrison taught the class was that it is important to always remain optimistic. During his visit, Morrison told us a story of how he accidently took a photo of an African child's deteriorating footwear and how that photo made the child very upset; he stated that photo shattered the child's world. From this story Morrison brought about the idea that instead of promoting the negative things in life, individuals should promote the positive, that way one can see their own progress. This is the kind of thinking that will help make the world a better place and it was a great experience to have Mr. Morrison in the class.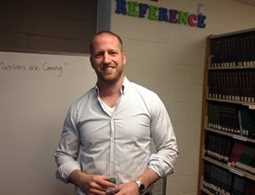 Max Eisen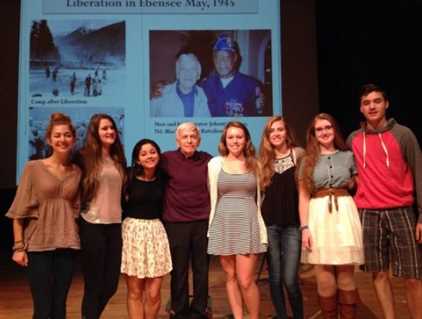 Max Eisen is a Holocaust survivor who was born in 1921 in Czechoslovakia before being taken away by Nazis occupiers to a concentration camp in 1939. Max shared with the class his story and survival in the Nazi death camps, before eventually being liberated by American troop in May 6, 1945. After he spoke to the Global Perspectives students, Max had lunch with some of the students from the class. His story will forever be remembered with the Global Perspectives class of 2015.
Gwynne Dyer
Gwynne Dyer, an author, historian, and independent journalist took time out of his busy schedule this year to speak at Innisdale Secondary School once again. Dyer has worked as a freelance journalist, columnist, broadcaster, lecturer on international affairs, and has articles published throughout 45 countries; making Dyer's speech in Innisdale's cafeteria an extremely humbling experience! He focused on the topic of automation, along with the economic and socio-economic effects that it encompasses. Dyer was also generous enough to set aside time in order to allow for a question period and was able to honestly answer each question that students and teachers had to offer. This year Global students were then privileged to have the opportunity to speak to Dyer personally within Portable 11 and to receive his feedback on their questions relating to each of their ISU topics.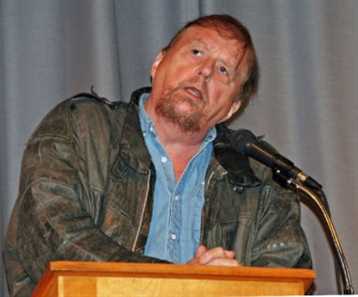 Ann Hoggarth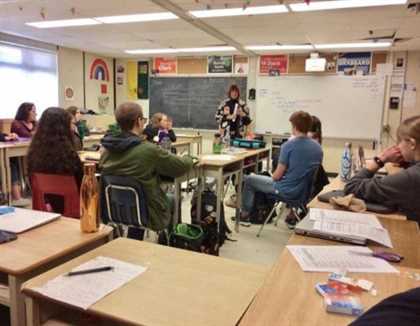 Ann Hoggarth, the former MPP for Barrie, was accompanied by the Liberal Party of Ontario's Legislative Assistant Colin Campbell while she spoke in Portable 11. She shared a lot about her life, her time as a member of the teacher's union, and about her current work as Barrie's MPP. While describing her transition from a teacher to the position of MPP, Hoggarth shared that the position has increased her "heckling abilities". Hoggarth additionally encouraged each of the students to get involved with politics and offered two ways to begin: Volunteer in your communities and to get educated about current political and social issues. She also shared that she believes that the current generation has been taught to take risks. The Global class of 2017 would like to thank Ann Hoggarth for taking the time to share all of her wisdom with us!
Senior Research Fellow and Co-editor in-Chief Mr. Dawood travelled to the Global Perspectives portable to offer an insider view on the provincial election, and to teach the class about the complex workings behind the decisions made within the North Atlantic Trade Organization (NATO). He led the class through an intriguing task which involved students playing the role of multiple NATO countries debating about a candidate for the position of Secretary General for NATO.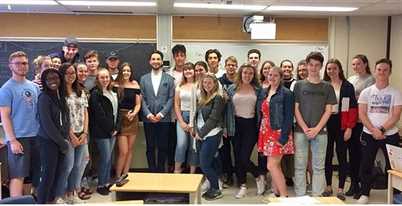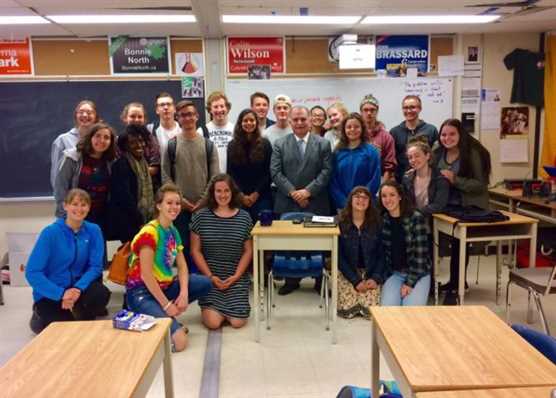 Rocco Galati's story is a true inspiration. As a child, his teachers labelled him as unintelligent - now, he is named one of Canada's top 25 influential lawyers for his work as a constitutional lawyer, employed as an executive director of Constitutional Rights Centre Inc, a co-author of two published books, a recipient of the OBA President's award, executive producer of three films, and has litigated for all levels of court (including the Supreme Court of Canada!) among his many feats. Now, the Global class is wishing that he was a high school teacher! During his presentation, he highlighted many interesting facts about working as a constitutional lawyer, including his latest lawsuits against the Bank of Canada and the Canada-EU trade deal. The class felt privileged to be able to learn from someone so highly respected and made sure to appreciate every minute of his time in Portable 11.
Arif Khan, the Municipal Councillor for Ward 8 in Barrie, joined the Global Perspectives class in a practice fire drill during his presentation. Despite this, the Ward 8 Councillor caught the attention of many students through his recount of his earlier life, the explanation of his career, and by bringing in delicious donuts and muffins for the class. Khan also recounted his time in Hollywood when he worked behind the scenes on many famous productions. He also covered topics relating to the changing economics and systems in the city of Barrie. Khan was also able to answer all of the questions the class had with an exceptional knowledge of all the topics mentioned; whether in relation to his current career in Barrie or his past careers in Hollywood.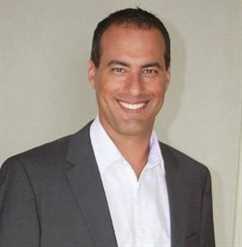 Jeff Lehman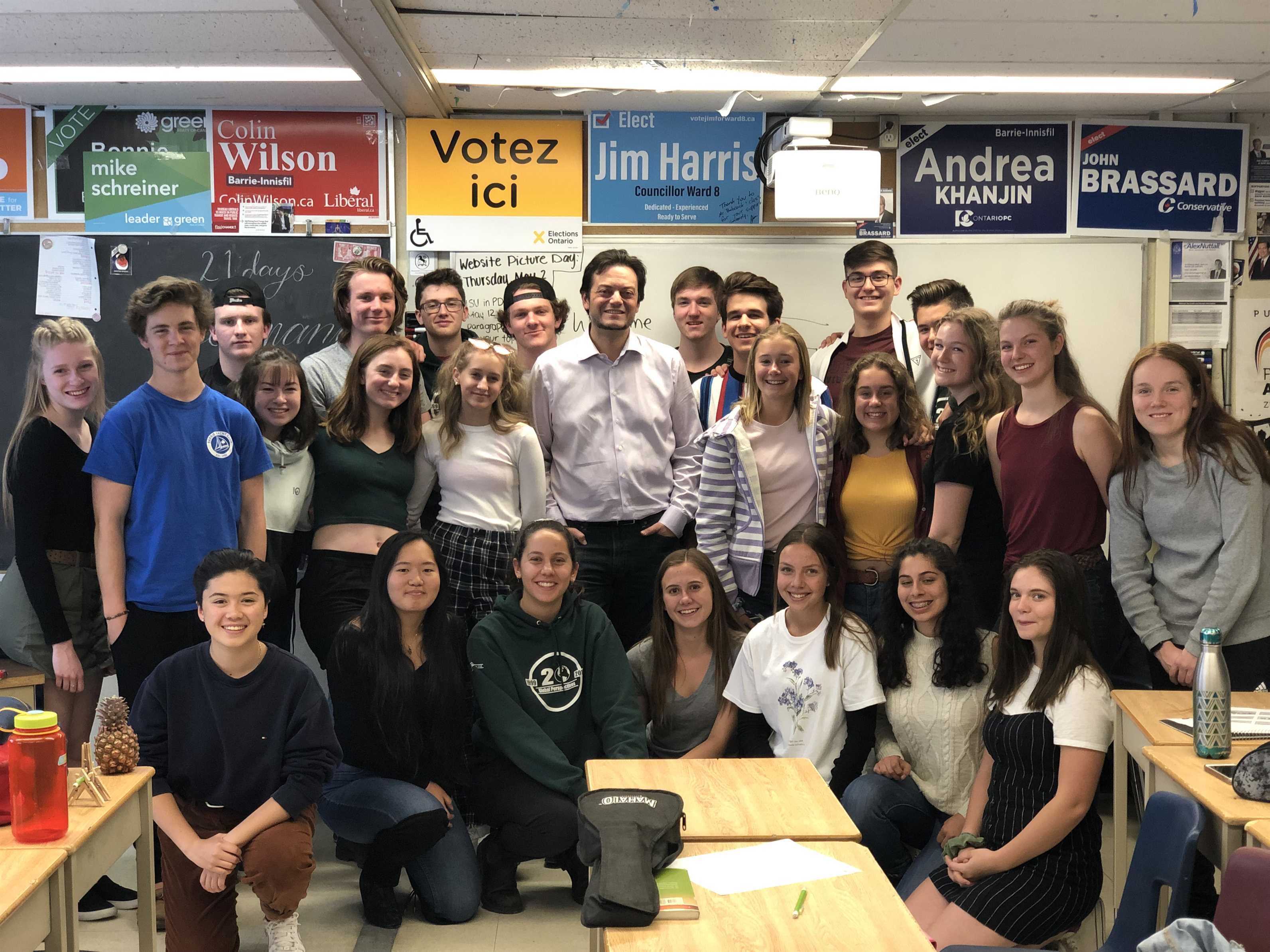 The Global Perspectives class has been honoured to welcome the Mayor of Barrie as a guest speaker! Jeff Lehman, formerly of Queen's University and the late Barrie Central Collegiate, both educated and engaged us during his presentation on the inner workings of the City of Barrie and everyday life as mayor. He addressed key issues such as job opportunities, affordable housing, city expansion, technological growth, and ways to make Barrie more environmentally sustainable. From his visit, the class learned the benefits of embracing positive change. We were very thankful to have the opportunity to interact with such an esteemed member of the Barrie community and to hear his answers to the classes (many) questions!
John Brassard
It was a pleasure to welcome John Brassard of the Conservative Party of Canada into the Global Perspectives classroom. As an MP for Barrie and Innisfil and a critic for veteran's affairs, it was very interesting to hear about his career in politics and what he's learned during his experiences. Throughout his presentation, the class were granted many opportunities to hear his opinion on topics such as the legalization of marijuana, the Syrian refugee crisis, the Liberal government, and veteran's affairs. He often mentioned that honesty in politics is of the utmost importance. As Mr. Brassard said, he "always tries to give people an honest moment of his time." The class was very grateful to have Mr. Brassard speak, and the class hopes that Mr. Brassard enjoyed the discussions as much as the class did!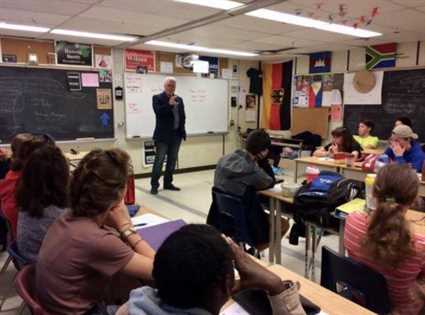 Doug Sole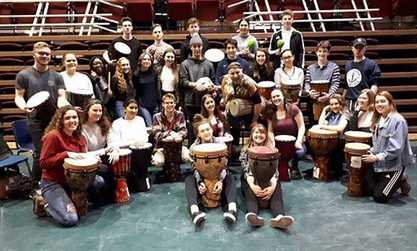 Doug Sole is the founder and co-owner of Soul Drums Ltd. This company showcases the music of Africa to schools, building both teamwork and a worldly perspective. The class had the unique opportunity to take part in a traditional drumming circle. Through Mr. Soles interactive experience, the class learned many lessons and were given a glimpse into a different perspective. The class is very thankful for having the opportunity to experience such an interesting and exciting drumming circle.
Trevor Carter
The class was very thankful to have Trevor Carter, an archaeology teacher at St. Joseph's Secondary School, talk to the class about the Canadian charity First Steps. First Steps is a Christian organization dedicated to supporting children in North Korea. He came in to share his knowledge and experience related to foreign aid and the North Korean Regime through a presentation on the charity. The class learned about the malnutrition, stunted growth, and poverty in North Korea all hidden below the surface and successful self-image mobilesafe portrayed by the country. Mr. Carter has been to North Korea numerous times himself to give valuable nutritious aid to those who need it. The class was very appreciative to hear and will never forget some of the stories told about life in North Korea.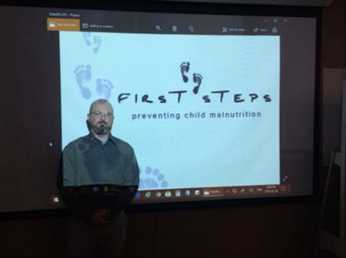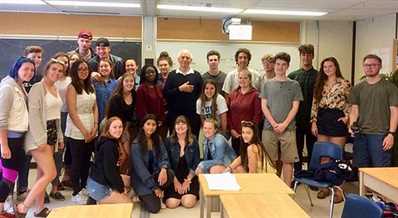 Jerry Jarson is a Ukrainian survivor of WWII who came to the Global Perspectives portable to share his experiences in Europe and his struggles with his immigration and integration into Canada. He explained the hardships that he endured after being orphaned at age 8 and how he fled to Canada. The Global Class of 2018 is very thankful to have heard Mr. Jarson's story and have him come to the class.
Mr. Barlow is a businessman and conductor of the Orillia Silver Band. He lived in Germany for ten years and taught the class about daily life as a foreigner in Europe, preparing the class for the big trip to Germany. He also shared with the class some insight about working abroad throughout Europe. The class is very grateful to have Mr. Barlow share his stories and experiences.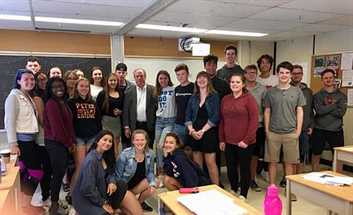 Dave Dryden and Bill Sergeant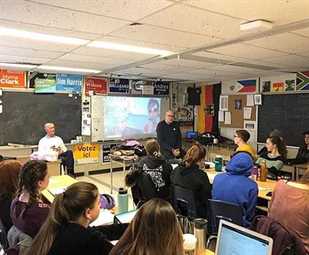 Bill Sergeant and Dave Dryden came to the Global Perspectives portable to present their amazing organization, Sleeping Children Around the World (SCAW). SCAW collects money from donors to assemble and distribute bed kits to children in need from low-income countries. The message of this charity is that "everyone deserves a comfortable night's sleep". The guest speakers' message inspired the class to donate to SCAW to give a child a bed kit. Some of the Global students even volunteered to update SCAW's social media pages to help their charity attract more attention. The class would like to thin Mr. Sergeant and Mr. Dryden for taking the time to talk to the class about the charity and how to get involved.
Mr. Toor is a former teacher and principal, but he now works for the Simcoe County District School Board. When Mr. Toor came into the Global class to talk about cultural appropriation and privilege, the class learned how to check their privilege, recognize prejudice that they may possess, and prepare for the upcoming C2N project. These workshops with Irfan were interesting, interactive, and educational and the class is very grateful to have Mr. Toor share his knowledge on the subject.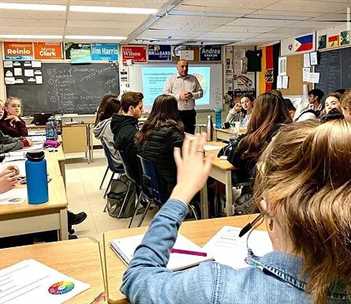 Andrea Khanjin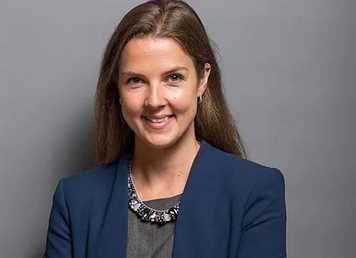 Andrea Khanjin is the MPP for Barrie-Innisfil, and she has worked with the government since she was 14 years old. Andrea has a very interesting and unique origin story which she shared with the Global Perspectives class. She explained how she became involved with her political party at such a young age and shed some light on the Progressive Conservative Party. Her main message to the class was that you are never too young to make a difference and to always do what you are passionate about. Andrea Khanjin's story inspired the class to be more active citizens.
Bob Bruer is currently working at Soldiers Memorial Hospital on updating sources and graphs related to COVID-19. Thanks to Bob's work with COVID-19, hospitals around the province have accurate data and statistics on the virus. He described to the class his daily jobs, in addition to his journey to this point. Bob Bruer is a psychiatric epidemiologist which gave him the expertise to assist the hospital during the COVID-19. Before the pandemic, he was working in mental health research. A very interesting study he led determined that music improves cognitive ability in people with dementia. Music reduces anxiety, which is why, as Bob highlighted, when people perform music it makes them happier and further supports why virtual choirs have become popular during the pandemic.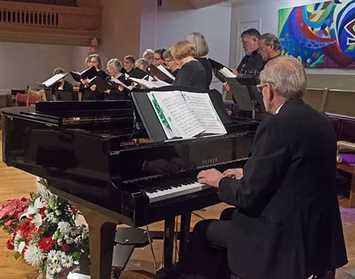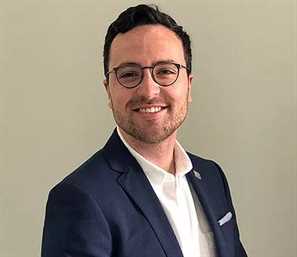 Keenan Aylwin, a former globalite, is the Ward 2 Councillor of the City of Barrie. Mr. Aylwin came to the Global Perspectives class to talk to us about his experience in politics. Keenan became active in the community as he noticed the pattern of right-wing beliefs and wanted to make a change in the city. He eventually decided to run as City Councillor in Ward 2 of Barrie. He explained that having this job gave him a platform for positive progress.
Michael Cachagee is a well-known Indigenous rights activist, speaker, and community leader. He is a prominent residential school survivor and advocates for residential school rights, healing, and reconciliation. The Global class had the opportunity to interview Mr. Cachagee and learn about his experiences of healing and reconciliation.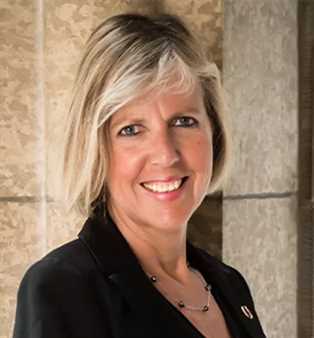 Global Perspectives 2021 hosted Senator Marty Deacon via GoogleMeet. Senator Deacon, a former national-level athlete, teacher, principal, and superintendent, shared her powerful story of how she made the choice to empower herself by making sport and education central to her development.
Nari Hwang is a student in grade 6 who was presented to the class as "Simcoe County's Greta Thunberg". She is an advocate for Lake Simcoe and is passionate about conserving the environment and providing access to clean water. Nari started a "Protect Lake Simcoe" project and participates in clean efforts within her community, such as picking up litter. At such a young age, Nari is very successful and has spoken at many events around the province. This young advocate reminded the class that to make a difference for Lake Simcoe, everyone should recycle and not use lawn fertilizer, but more importantly, if you want to make a change, keep your light shining and never give up!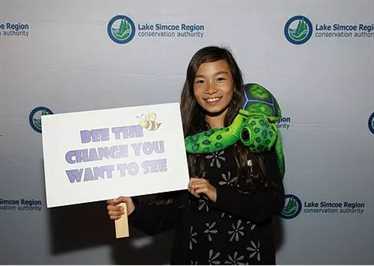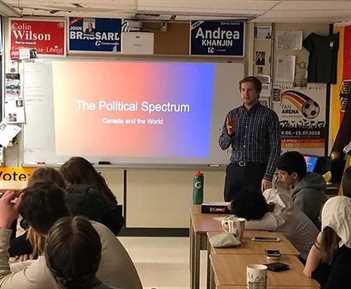 James Duncan is a teacher who was the student-teacher for the Global Perspectives 2019 class. Mr. Duncan returned into the Global Perspectives class to talk about the political spectrum which was a great introduction to Mr. Babcock's Politics in Action class. The class would like to thank Mr. Duncan for his engaging involvement in the class and he will always be a good friend to the Global Perspectives 2019 class.