Future
The twinning between our two cities has been an active and rewarding enterprise. We look forward to celebrating the 25th anniversary in 2022, of the formal ceremony that took place in Zweibrücken in 1997. Plans are being made to mark the occasion both here in Barrie and in Zweibrücken. A Totem Pole that was given to the citizens of Zweibrücken in 1969 upon the departure of the Royal Canadian Air Force from Zweibrücken and which is on display in the Zweibrücken Rosengarten is being restored. Plans are being made to unveil the restored Totem Pole during the 25th anniversary year.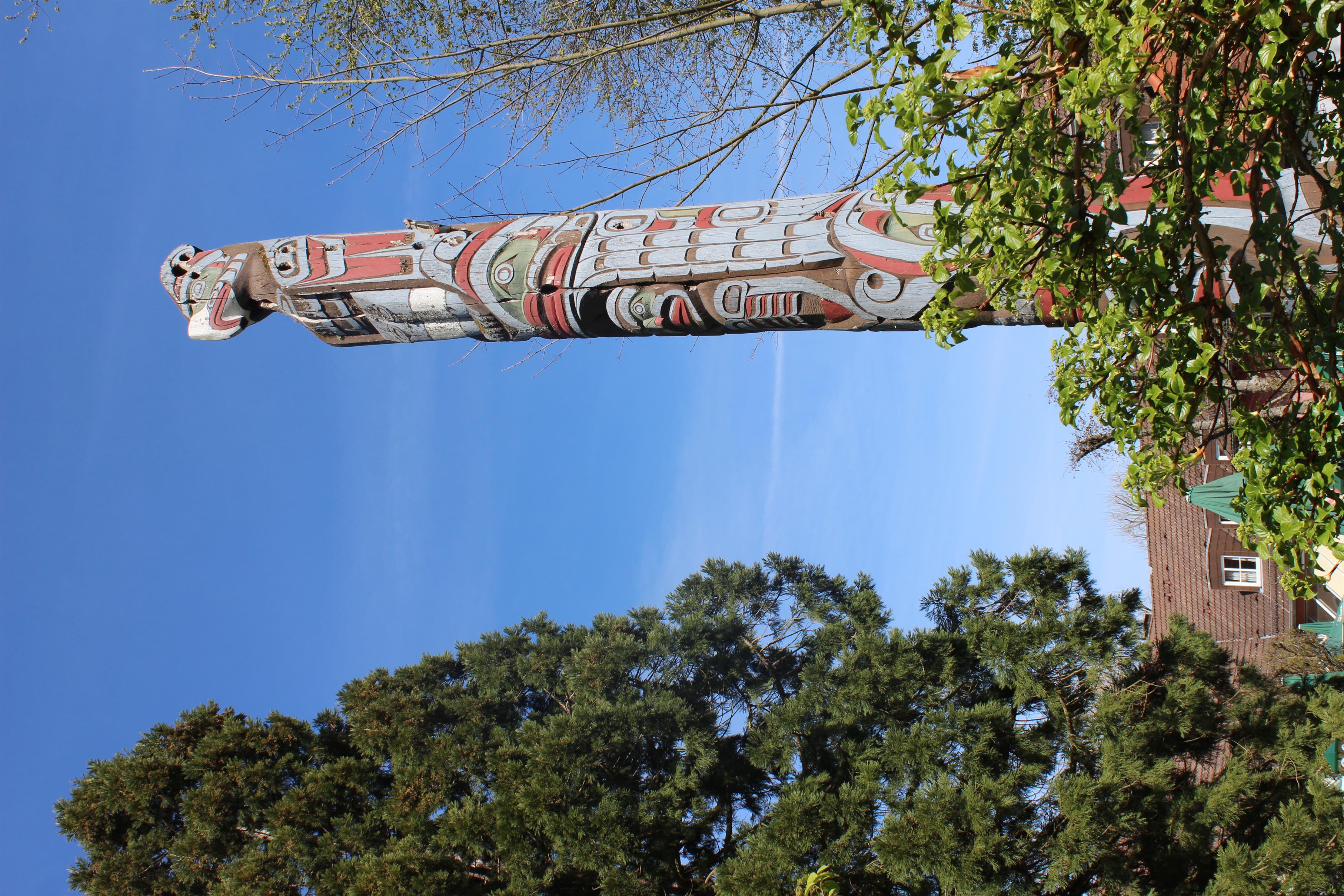 A photo of a Canadian Totem Pole in Zweibrücken. In 1969, the Royal Canadian Air Force handed over facilities of the Station to the United States Air Force. As a parting gift to the citizens of Zweibrücken, a Totem Pole was erected in the City Rosengarten. It still stands proud as a tribute to those who served.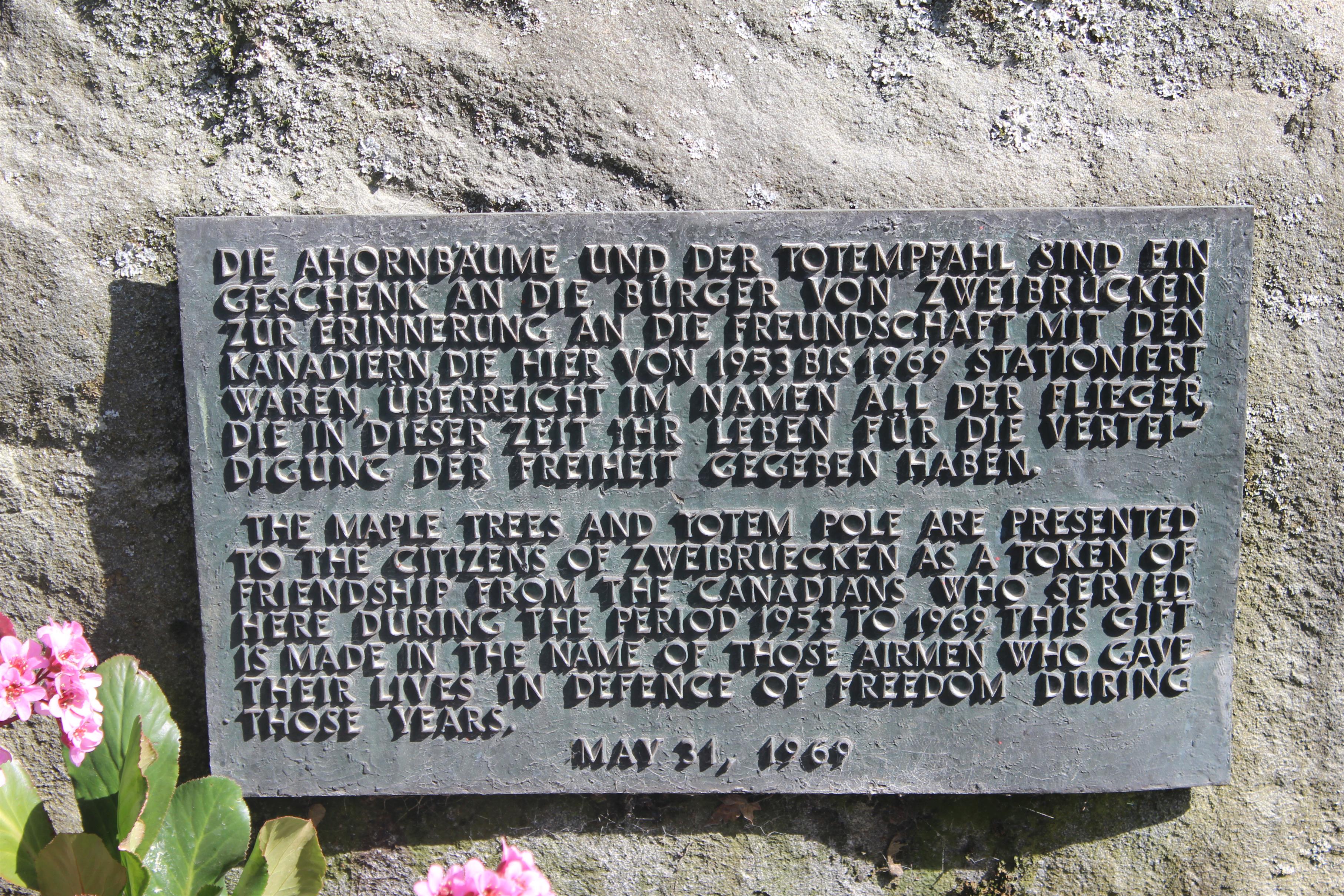 A plaque located at the foot of the Totem Pole in the Rosengarten which covers a little more than 12 acres. It contains 45,000 plants and 1,500 species. The Rosengarten was officially opened in 1914 by Princess Hildegard of Bavaria. There are thousands of visitors annually.
It is our hope that the situation with regards to the pandemic will have changed so that we are able to resume the exchanges of sports and cultural groups that have made our twinning so successful.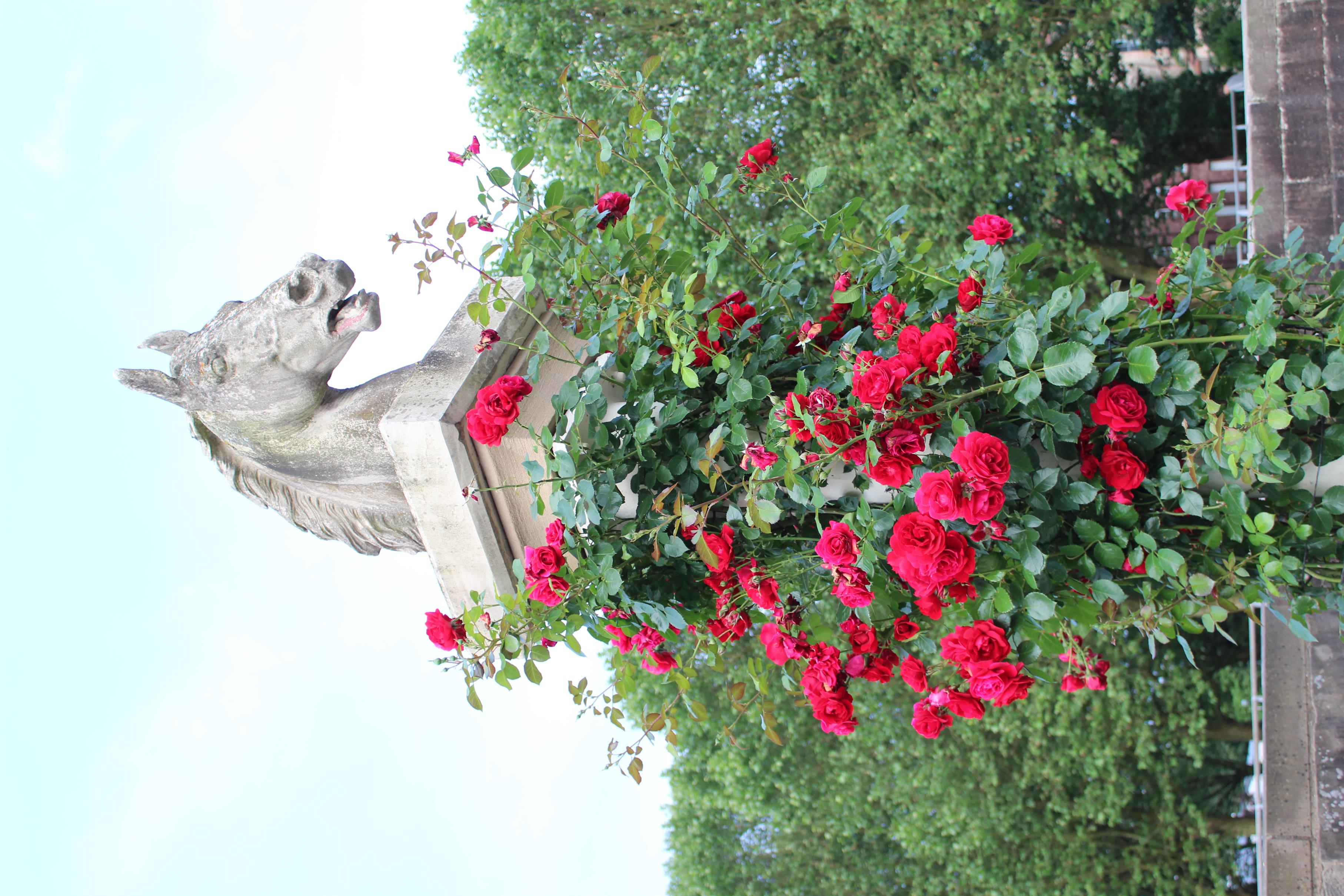 Zweibrücken is known as the City of Roses and Horses. This photo was taken at the entrance to the State Stud Farm, that was founded by Duke Christian IV in 1755. The Zweibrücken facility is the smallest of the federal state stud farms but also one of the oldest that is still in operation.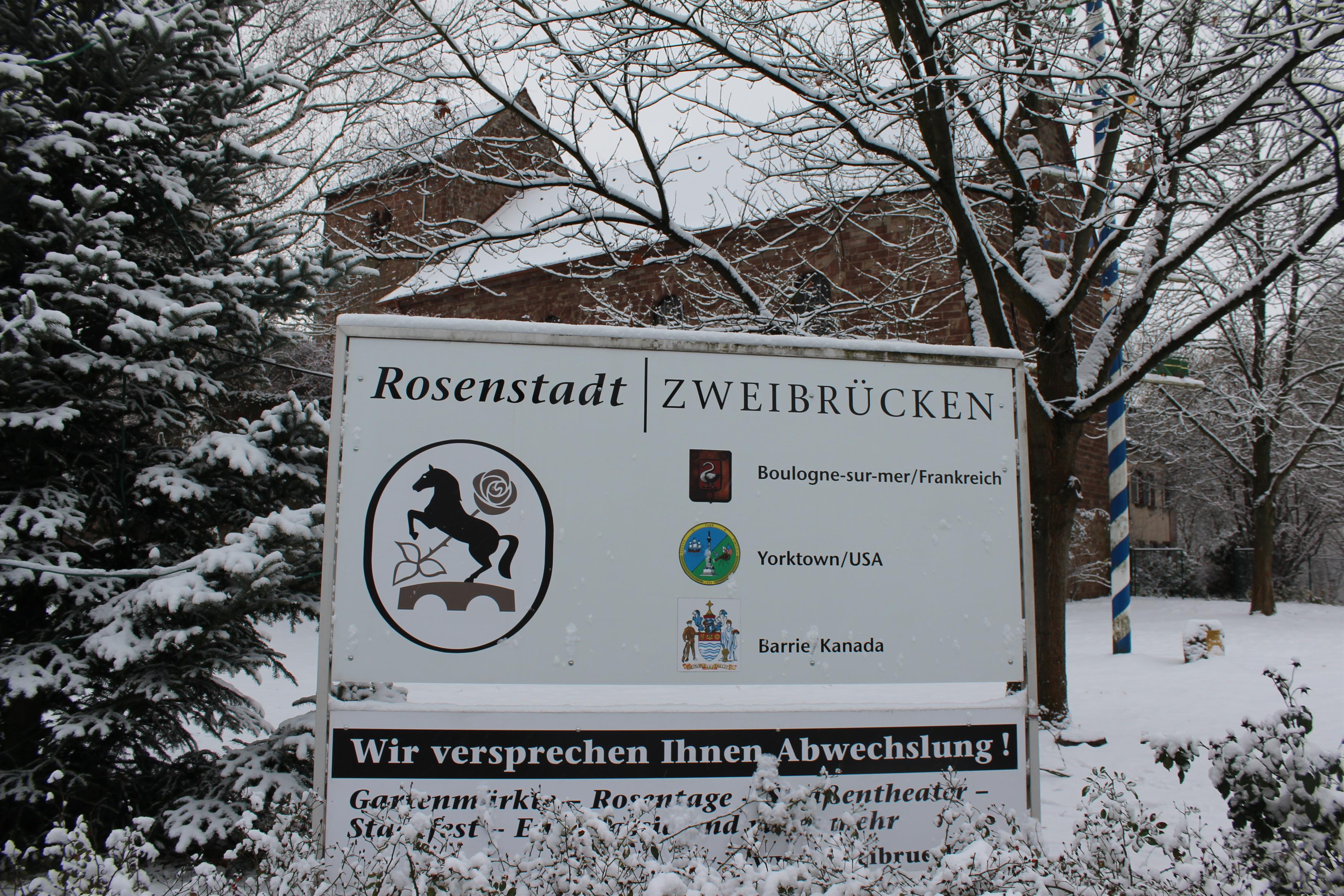 This city sign greets visitors to Zweibrücken and shows the twin cities as well as their city crests. The Church behind the sign is located in Ernstweiler, a former village now part of the city of Zweibrücken.
The interest in Canada by our German friends is such that another group of tourists is being assembled who wish to visit Barrie during 2022 to learn about their Canadian twin city. An itinerary is being drawn up that will feature the tourist highlights of southern Ontario and the area known as Huronia.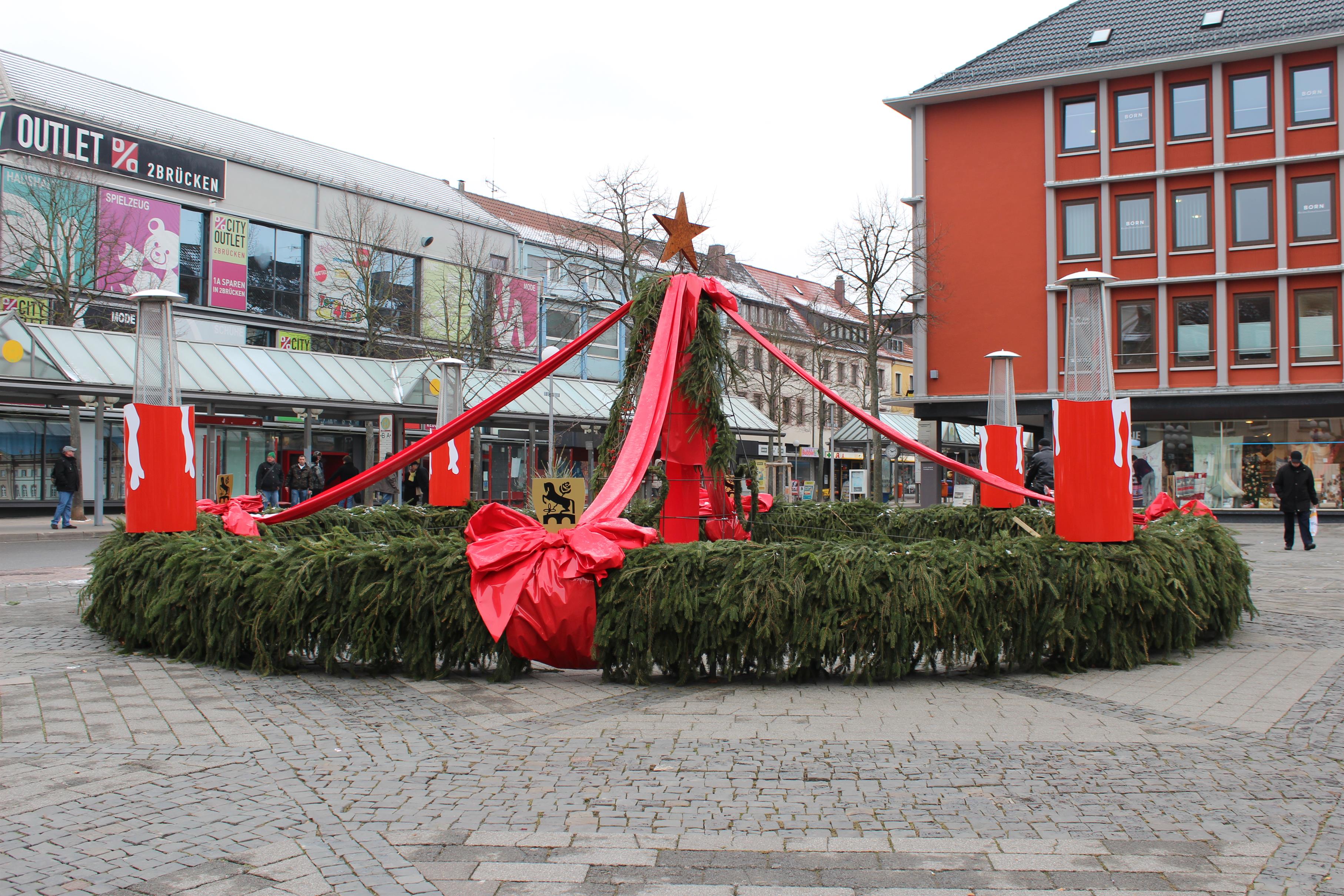 This Advent wreath was erected in the downtown of the city quite close to the Alexander Church (Alexanderskirche). The shield in the wreath shows the city logo, Rose and Horse.
In addition, we are all looking forward to the resumption of the student exchange program that has been a major component of the twinning program. The students who have taken part in the study program in Zweibrücken as well as the German students from Zweibrücken who have visited and studied in Barrie are the most appropriate persons to carry the twinning forward to mark the next 25 years.