Harrogate, United Kingdom
History
Building on the success of the partnership between Zweibrucken and Barrie, Major (ret'd) Jean Maurice Pigeon, MStJ, CD, proposed to the City of Barrie's International Relations Committee that the Borough of Harrogate in North Yorkshire, UK would be an important Twinning partner for Barrie. Having met personally with Sir Thomas Ingilby, Baronet of Ripley Castle, on October 19, 2011, Jean Maurice convinced him of value of a Twinning agreement between our two cities. He, in turn, convinced the Borough Council of its benefits and arranged the signing of the Twinning Certificate on June 13, 2013 at Ripley.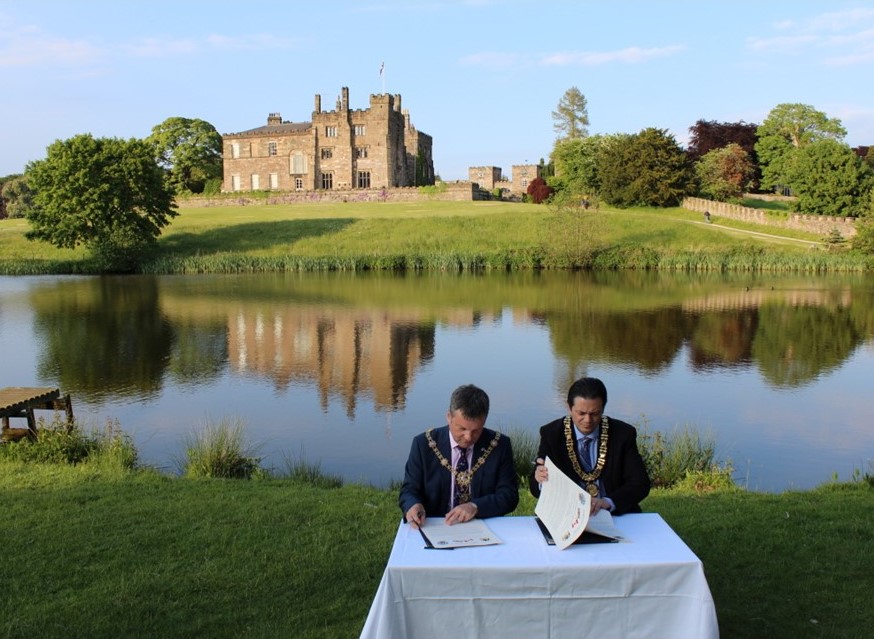 Harrogate Mayor Michael Newby and Barrie Mayor Jeff Lehman signing the Twinning Certificate at Ripley Castle on June 7, 2013.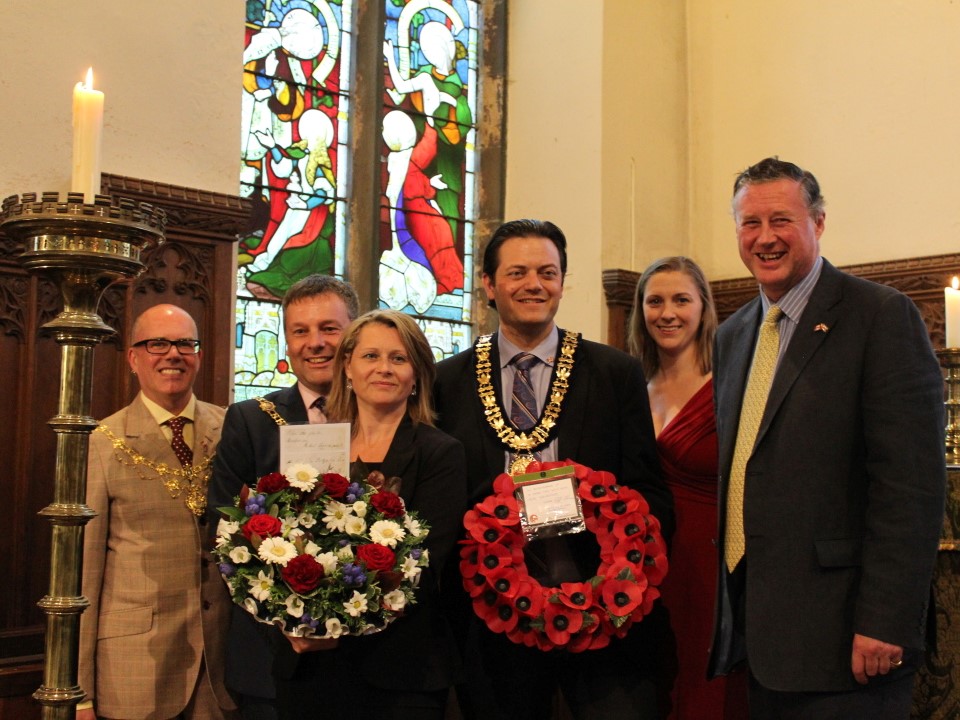 Clive Kirkham, Mayor Michael Newby of Harrogate, Jennifer Rushton, Mayor Jeff and Jennifer Lehman of Barrie and Sir Thomas Ingilby of Ripley in All Saints Chapel.
The City of Barrie is named after Rear Admiral Sir Robert Barrie KCB, KCH. He commanded Royal Navy's HMS Dragon during the War of 1812 and destroyed or captured 85 American ships. He returned to England to marry Lady Julia Wharton Ingilby of Ripley in 1816. During the period 1819 to 1834 he was Commander of the Naval Forces in Canada. Sir Robert and his wife are interred in All Saints Chapel, in the shadow of Ripley Castle, within the Borough.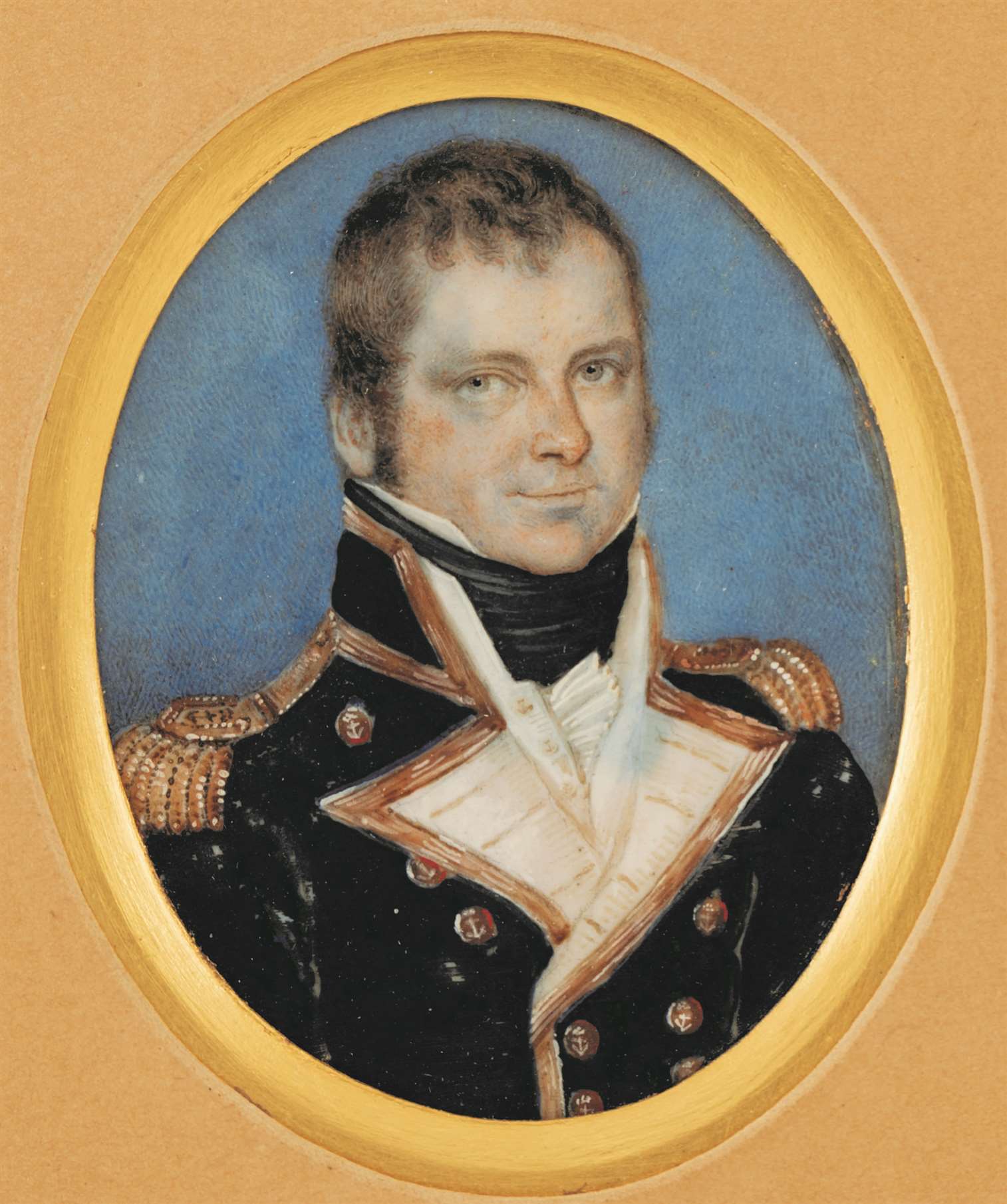 Post-Captain (RN) Robert Barrie miniature Cameo Water Colour Painting on Ivory owned by the Royal Military College of Canada.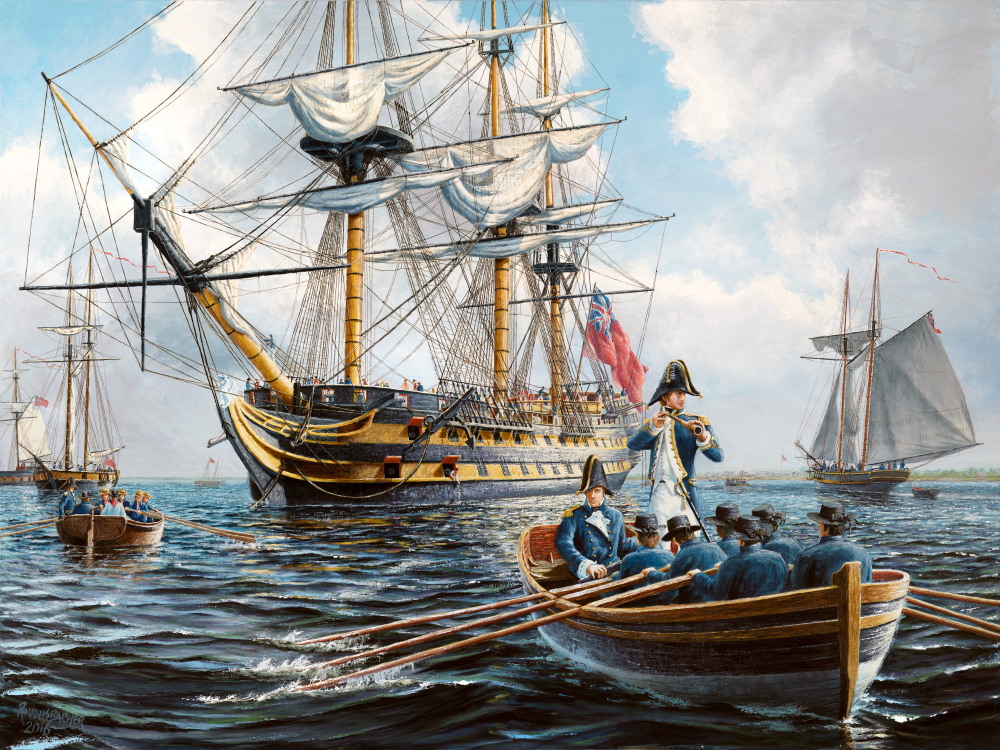 Post-Captain (RN) Robert Barrie in 1814 with his ship HMS Dragon in the Rappahannock River region. Painting by Peter Rindlisbacher, 2016.
In addition to this important link, there are other significant connections through the RCAF. During the Second World War, the Number 6 RCAF Bomber Group was headquartered at Allerton Park Castle near Knaresborough in the Borough.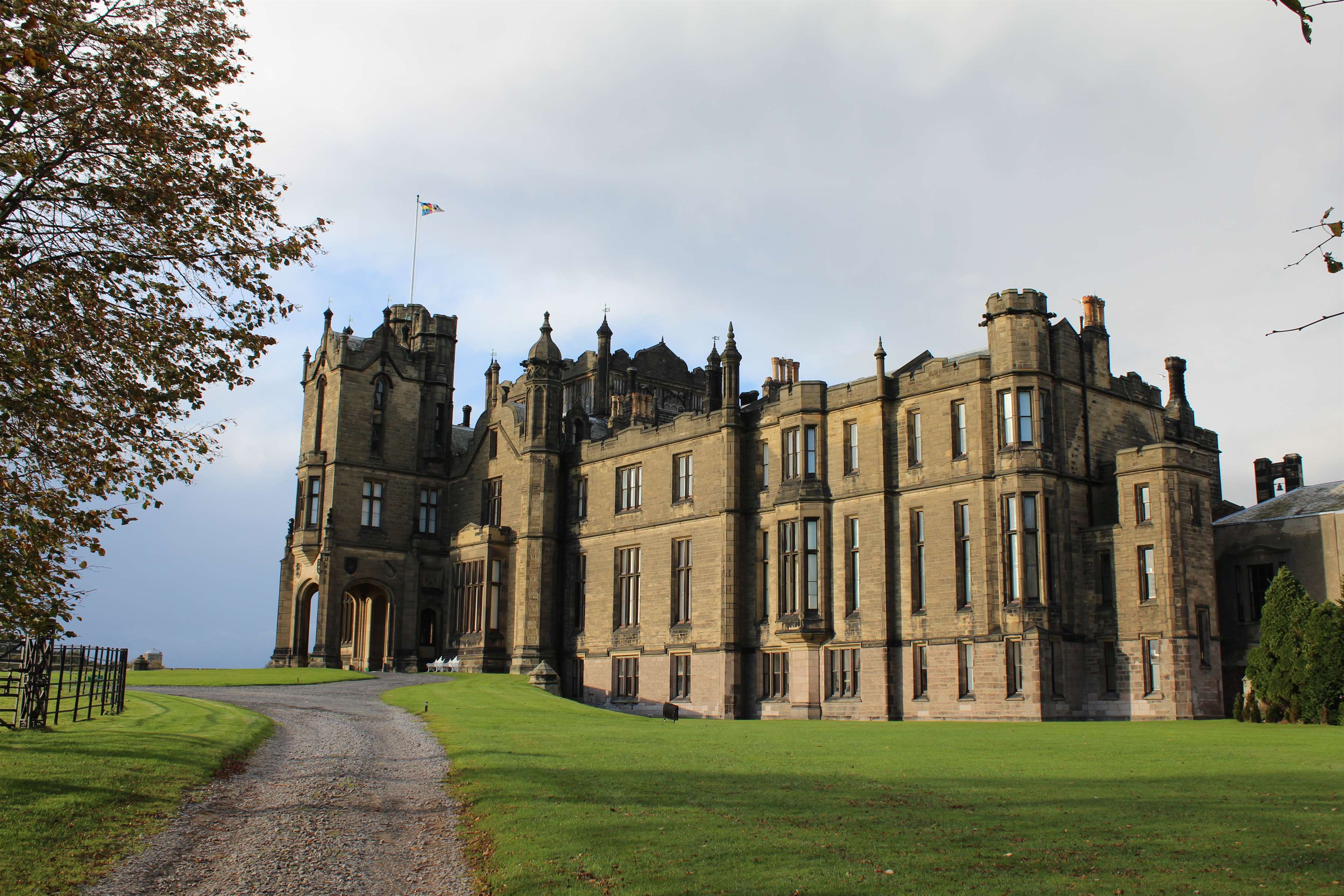 Number 6 RCAF Bomber Group Headquarters 1942 - 1945, Allerton Castle, Knaresborough, Yorks, UK.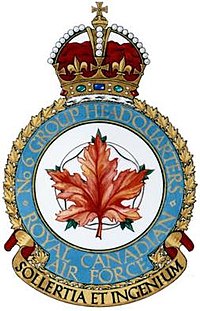 Number 6 RCAF Bomber Group Crest.
Thousands of Canadian airmen flew from the airfields located in Yorkshire and more than six hundred and sixty Canadian airmen found their final resting place in the Harrogate Stonefall Cemetery. One of these Airmen is a native son of the City of Barrie, Flying Officer William Howard Porritt flying a Halifax Bomber with 432 (Leaside) Squadron of the RCAF. Some of those who are resting in Harrogate trained as aircrew at the Birthplace of the Royal Canadian Air Force in Borden, Ontario, an airfield which is located near Barrie.


RCAF airmen Flying Officer Wm Howard Porritt, LAC Bedard, and LAC Charbonneau died when Halifax-NP805 crashed on take-off on April 16, 1945.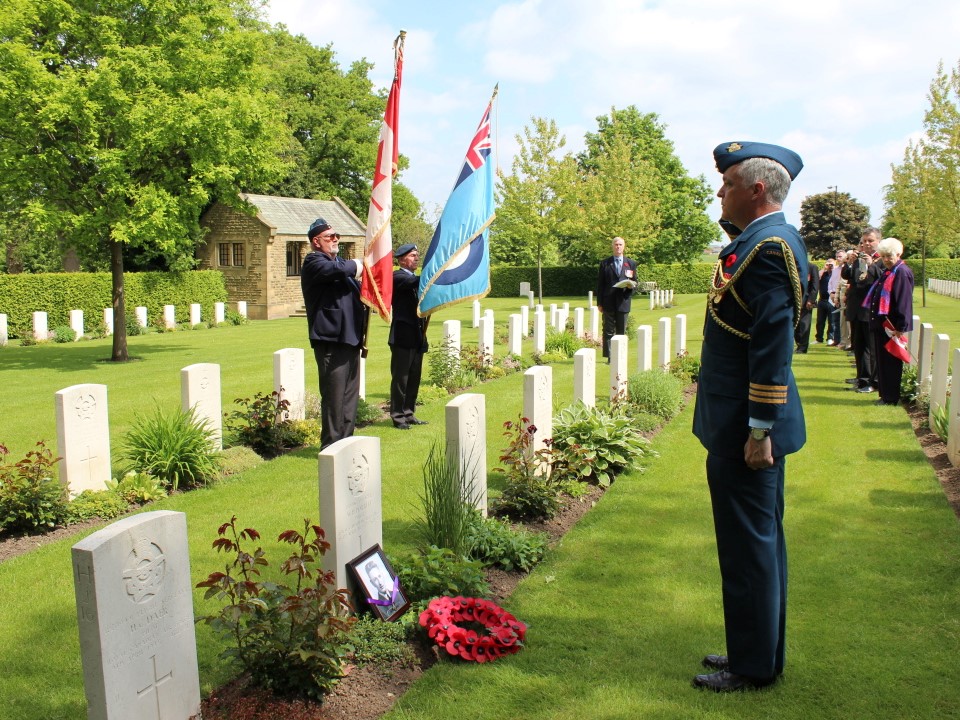 LCol Art Agnew, CD, laying a wreath at Flying Officer Porritt's grave, Stonefall Cemetery, Harrogate, June 9, 2013
It was the desire of both cities' Councils to promote these mutual friendships through the heritage ties that unite us. Their endeavours are to encourage the people of both communities to work in partnership and exchange ideas and information of a cultural, social, and commercial nature for the progress and development of our communities. Their citizens are encouraged to foster exchange programmes in sport, the arts and education. These exchange programmes form the foundations to bond friendships, goodwill and understanding. As such, the Twinning Certificates were signed by Mayor Jeff Lehman of Barrie and Mayor Michael Newby of the Borough of Harrogate on 7 June, 2013, the 172nd anniversary of the death of Sir Robert Barrie, our city's namesake.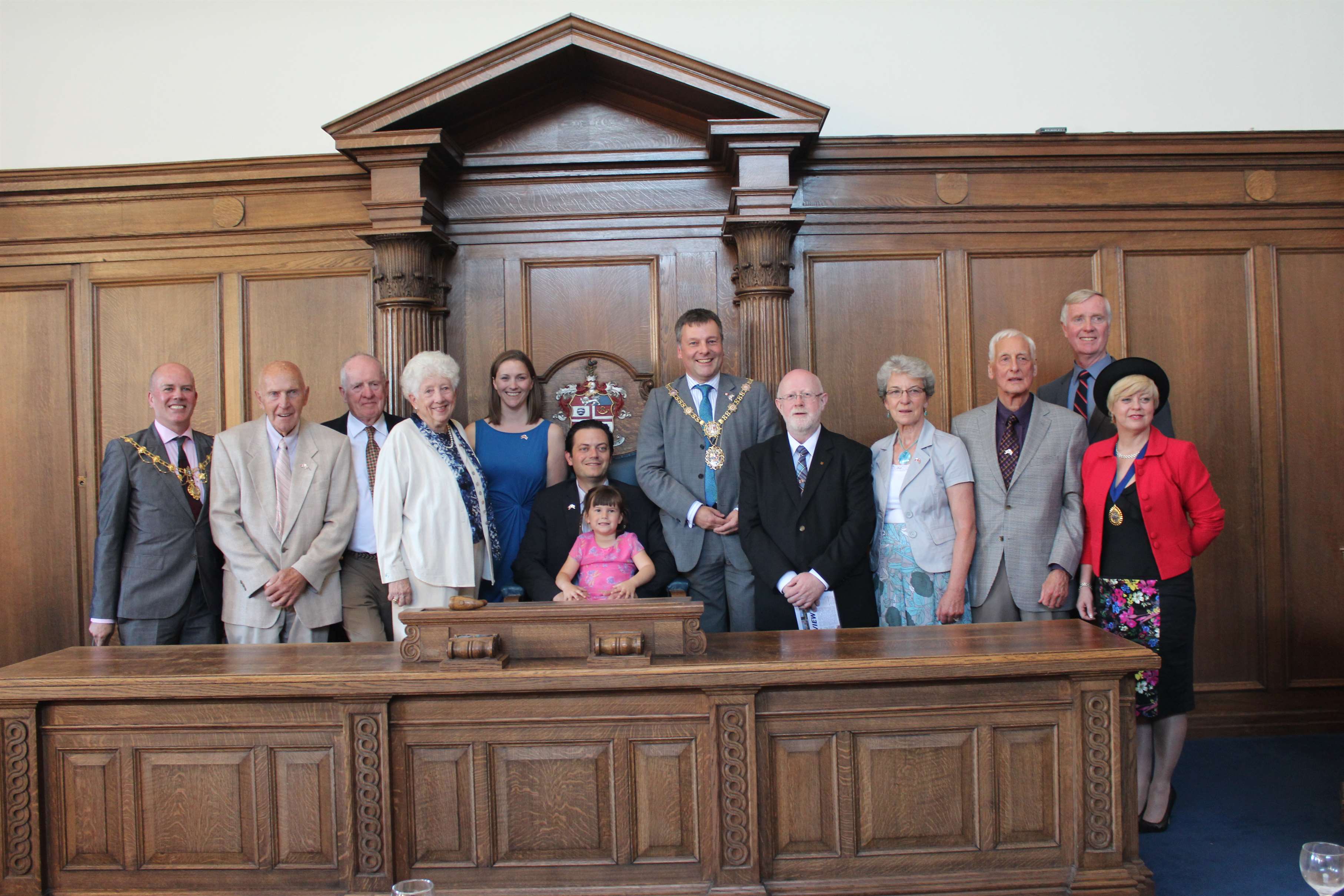 The Harrogate Twinning Delegation was photographed in the Borough of Harrogate Council Chambers after the signing ceremony. Pictured here are the Harrogate Mayor's Consort Clive Kirkham, John Laking, former Barrie Alderman Rob Warman, former Mayor of Barrie Janice Laking, Jennifer Armstrong-Lehman, Barrie Mayor Jeff Lehman and his daughter Cassie, Harrogate Mayor Michael Newby, Jean Maurice Pigeon, Jennifer and Robert Malcolm, Bill Sergeant, and Harrogate Deputy Mayor Clare McKenzie.
More information on Barrie's partnership with Harrogate can be found under the Harrogate, United Kingdom dropdown menu above. If you have an interest in volunteering with any of these groups please use the information below to contact us.
Harrogate's official website can be foundhere.