Harrogate, United Kingdom
Visit to Barrie by Harrogate VIP Delegation in 2015
In 2015, Barrie was honoured to host a VIP Delegation from our twin city, Harrogate, United Kingdom. The event started on June 30 and lasted until July 9. The delegation was met at Pearson International Airport by Jean Maurice Pigeon and transported in style to their hotel in Barrie.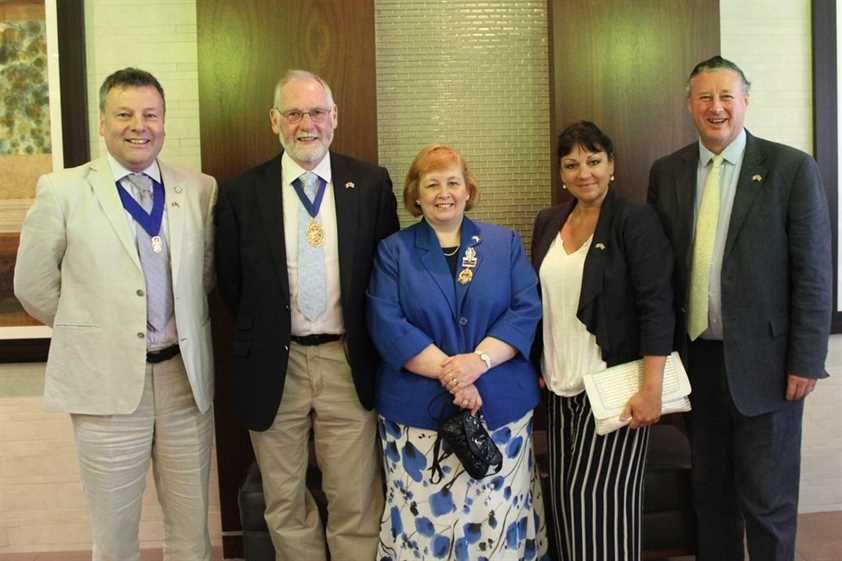 The Harrogate VIP delegation - Former Mayor Michael Newby, Mayor Nigel Simms, Mayoress Lynn Simms, Ms. Lorna Snowden, & Sir Thomas Ingilby, Barrie, June 30.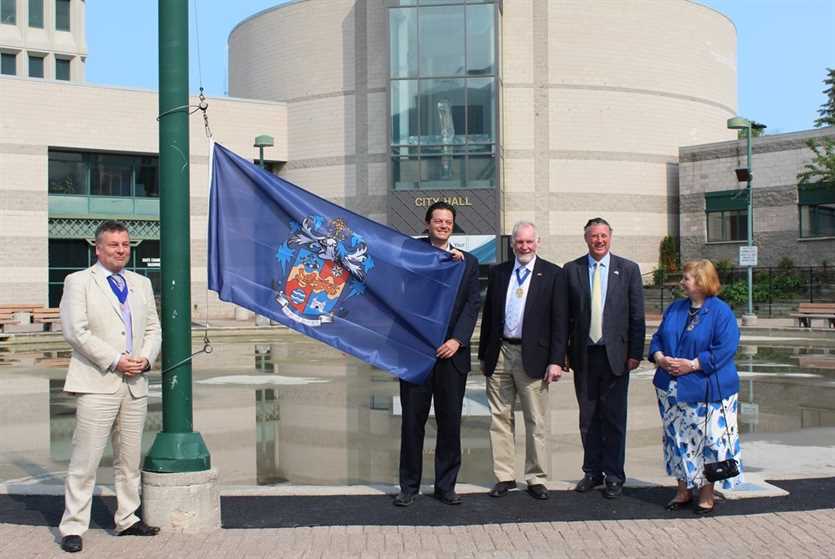 Former Mayor Michael Newby, Mayor Jeff Lehman, Mayor Nigel Simms, Sir Thomas Ingilby & Mayoress Lynn Simms raising the Harrogate flag at Barrie City Hall on July 3.
The delegation was given a tour of Barrie by its Town Crier, Steve Travers, on Canada Day. They learned about the history of Barrie and some of its livelier characters during its early days in the 1830s. They also enjoyed the Dunlop Street promenade and waterfront festivities before being hosted by Mayor Jeff Lehman and his parents that evening. The highlight was being able to watch the fireworks on Kempenfelt Bay from the Lehman's balcony.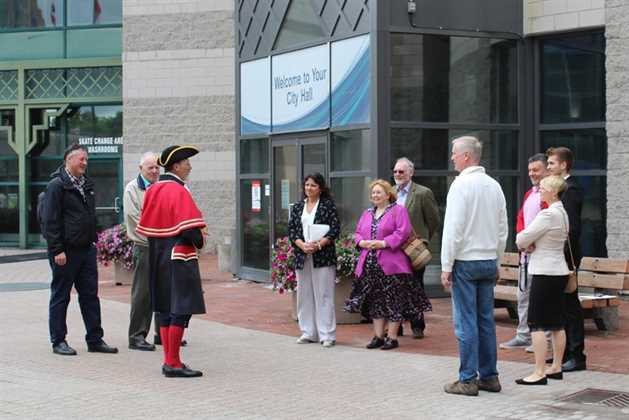 Sir Thomas, Rob Warman, Steve Travers, Lorna Snowden, Lynn & Nigel Simms, Bill Sergeant, Michael Newby, Neil and Jennie Rushton conducting a tour of Barrie on Canada Day.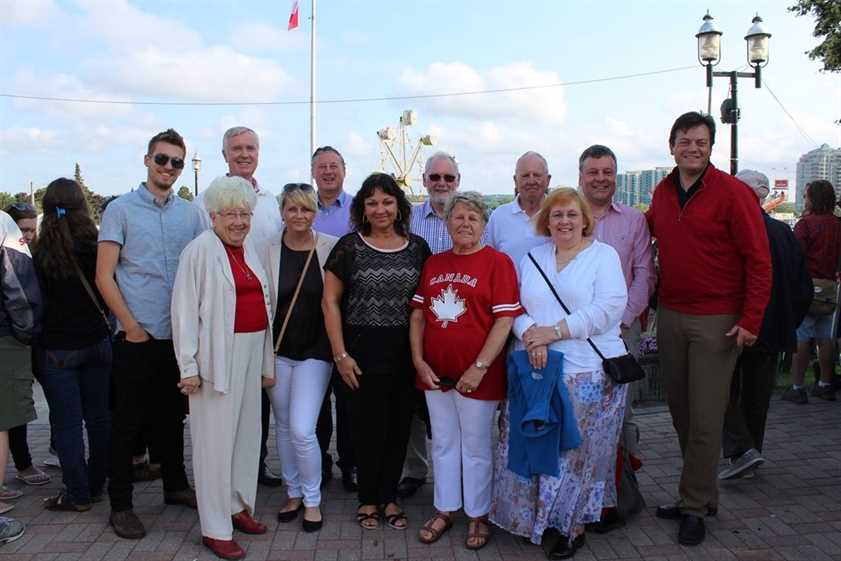 Celebrations of Canada Day on Barrie's lakefront: Neil Rushton, Janice Laking, Bill Sergeant, Jennie R, Sir Thomas, Lorna Snowden, Nigel Simms, Alice & Rob Warman, Lynn Simms, Michael Newby & Jeff Lehman.
The Twinning exchanges include commercial aspects. Sir Thomas Ingilby was the guest speaker at the Rotary Club of Barrie luncheon at the South Shore Centre on July 2. He talked about the business opportunities that Harrogate could offer the citizens of Barrie and eloquently described the plentiful tourist attractions and hiking trails in North Yorkshire.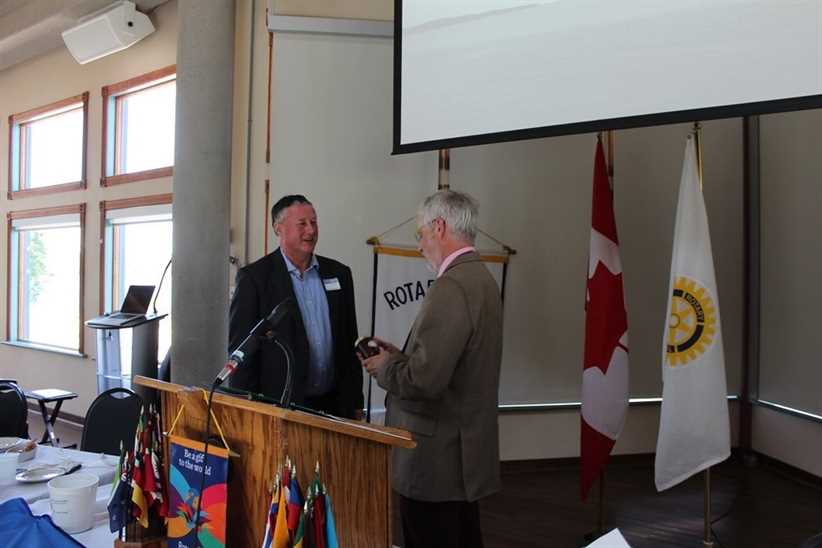 Sir Thomas Ingilby being thanked by the President Tom of the Rotary Club of Barrie, at the South Shore Centre.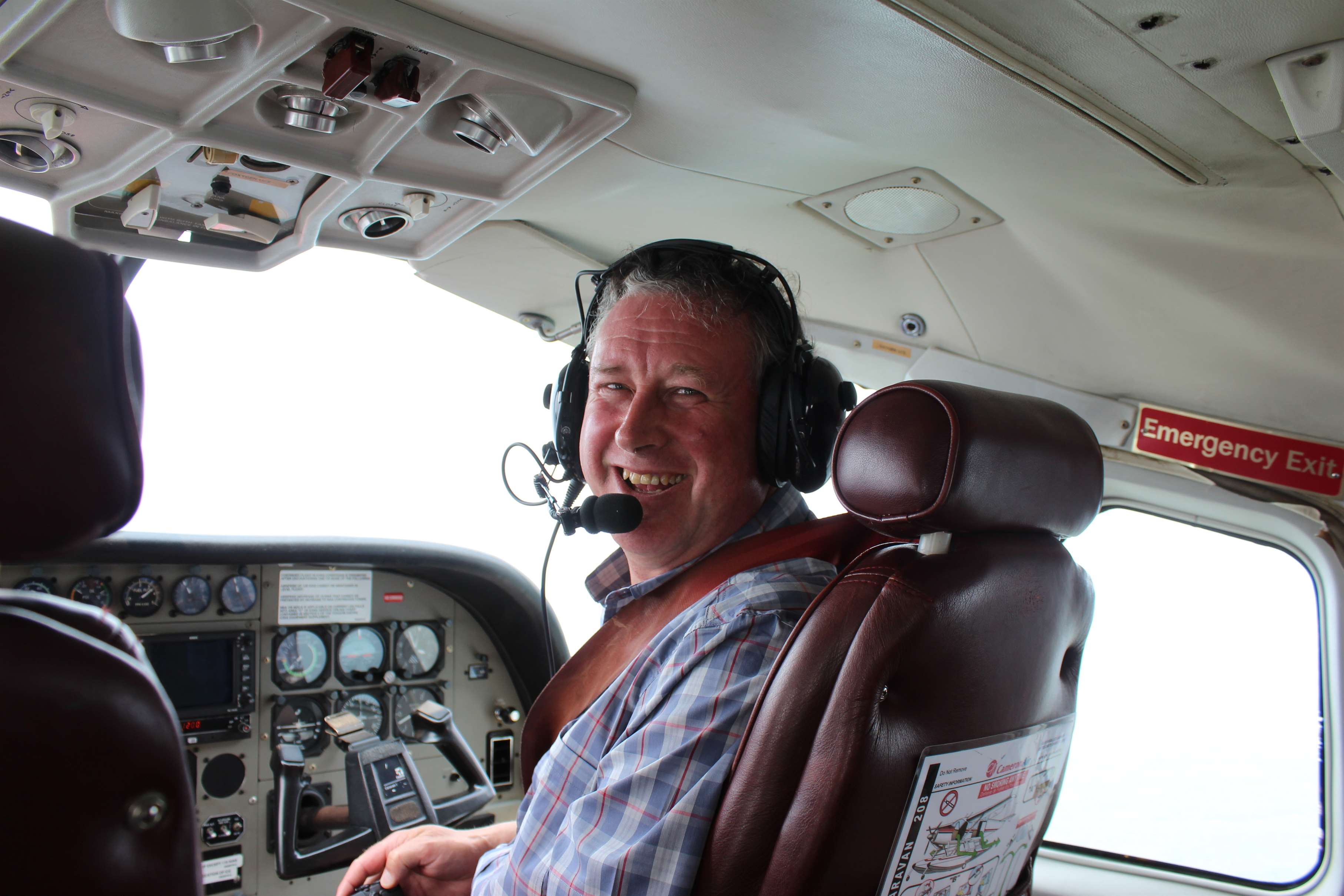 A special day for Sir Thomas Ingilby; being able to take the controls in the right-hand seat in the cockpit of a float place over cottage country in early July.
A visit to Canada in the summer would be incomplete without spending time in the Muskokas and cottage country. The delegation was invited to John and Janice Laking's to spend a day paddling and boating, followed by a delicious barbeque fish supper. The following day, they were given the opportunity of a lifetime when Jamie Massie hosted them at his island cottage near Pointe au Baril. They flew from Oro-Medonte Regional Airport in a 10-seater pontoon aircraft, landing at the cottage dock, where Jamie was waiting to greet them. They enjoyed an afternoon swim followed by a tour in his classic mahogany boat, Woody II, around the islands of that area. After a gourmet meal, the delegation boarded the aircraft as the sun was setting for their return trip to Barrie. Once airborne, they were treated to a second sunset over Georgian Bay.
Lorna Snowden, Neil & Jennie Ruston, Mark & Sandra Chalmers, Bill Sergeant, John Sr & John Laking Jr, Michael Newby, Dave Morrison, Sir Thomas Ingilby & Janice Laking in Muskoka cottage country.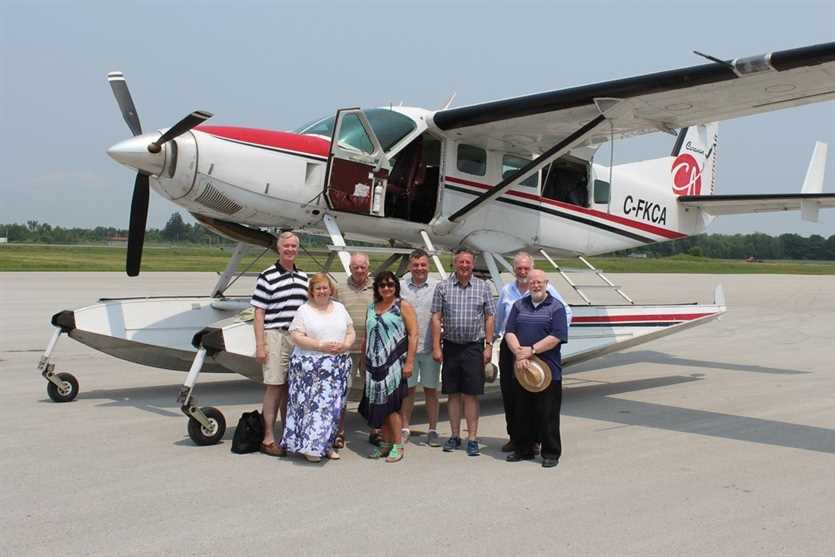 Ready to fly to Jamie Massie's cottage - Bill Sergeant, Lynn Simms, Rob Warman, Lorna Snowden, Michael Newby, Sir Thomas Ingilby, and Jean Maurice Pigeon.
The delegation departed Barrie on the 9th of July with an appreciation of what makes it such an attractive place to live, work, and play. The friendships that were developed during the trip are ongoing today and will last well into the future.